Gigabit Fiber-Optic Internet and Fios TV
Verizon Internet in a Nutshell
Offers Service in: Connecticut, Delaware, DC, Maryland, Massachusetts, New Jersey, New York, Pennsylvania, Rhode Island, and Virginia
Major Cities Covered: Baltimore, MD, Silver Spring, MD, Jersey City, NJ, Newark, NJ, Trenton, NJ, Bronx, NY, Brooklyn, NY, Buffalo, NY, Flushing, NY, Jamaica, NY, New York, NY, Staten Island, NY, Syracuse, NY, Philadelphia, PA, Pittsburgh, PA, Alexandria, VA, Chesapeake, VA, Richmond, VA, and Virginia Beach, VA
Residential Pricing: $39.99+ per month
---
Without a doubt, Verizon Fios is the best internet provider I've had. As a long-time cord cutter, their internet checks all the boxes I have for an internet provider. I just wish Verizon Fios covered more areas — only a small section of the US has access.
To give you a better idea of why Verizon Fios is one of my most recommended providers, I'll go over their plans, pricing, customer service, and how to avoid confusing Verizon's fiber internet with it's DSL internet.
Overview of Verizon Fios Internet
Verizon's internet offerings can quickly get confused. Technically, Verizon offers three forms of residential internet, but only two are available to most of Verizon's coverage area: fiber internet and DSL internet. Verizon's fiber internet is known as Verizon Fios, and their DSL internet is branded as Verizon High Speed Internet.
A friend of mine learned the hard way that there is a big difference between Verizon's fiber and DSL internet. Verizon Fios has much faster download speeds than Verizon High Speed Internet. I used to get speeds close to 200 Mbps on average with Verizon Fios. My friend mistook Verizon High Speed Internet for Fios and now only gets speeds around 5 Mbps daily. Here's a screenshot of his internet speed around lunchtime.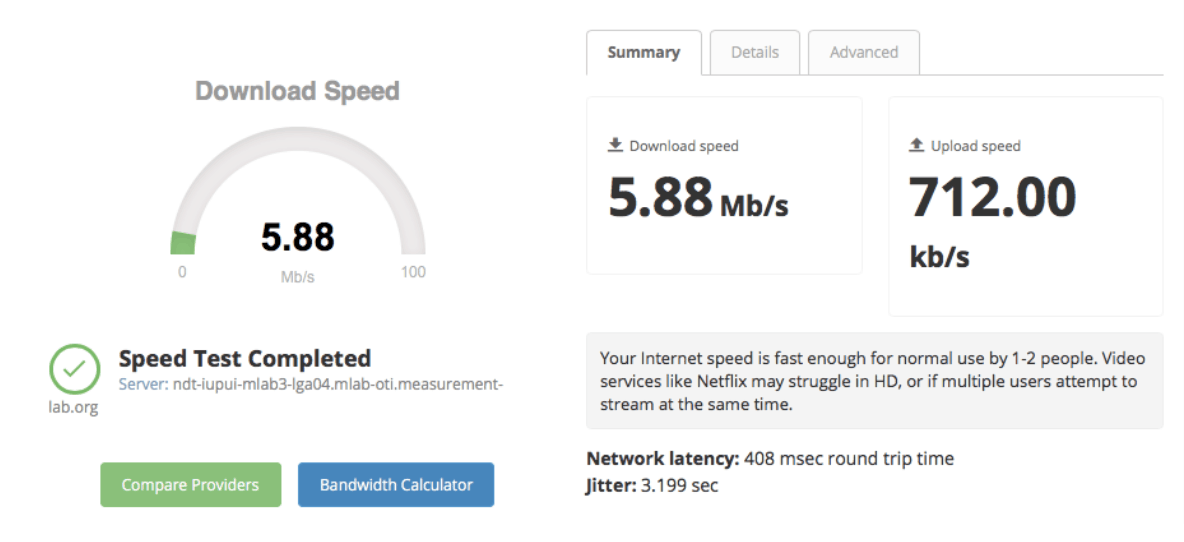 Yikes! He can't stream Criminal Minds on his TV and have a clear video call on his phone at the same time. But when I had Verizon Fios, I could. The moral of the story: Verizon's DSL network is not as reliable as its fiber network.
Verizon Fios is the second most widely available fiber internet provider, despite only offering service in nine states. Verizon Fios is able to top its biggest competitor, AT&T Fiber, with lower prices and better plan features for cord cutters (especially if you have big Disney fans in the house, thanks to Verizon Fios' Disney+ tie-in). And when it comes to customer satisfaction, Verizon Fios has been the highest-rated internet provider for customer satisfaction for the last four years. I've had a lot of internet providers over the years; Verizon Fios is still the one I recommend first to all my friends and family in the Northeast.
| Pros | Cons |
| --- | --- |
| Great deals for cord cutters Excellent customer service Affordable fiber internet | Expensive equipment fee Only available in a handful of states |
Verizon Fios Plans and Speeds
Verizon Fios internet plans are some of the fastest and most affordable considering they're fiber. However, most of the fiber internet providers I've analyzed offer a gigabit plan for a lower monthly price than Verizon Fios. Compare Verizon Fios and RCN or Optimum vs. Verizon Fios, and you'll find that Verizon's competitors offer some lower-priced mid-tier plans. (Mid-tier plans usually have speeds ranging from 300-600 Mbps.)
Verizon Fios Plans, Pricing, and Speed
| Plan | Price | Data Cap | Contract |
| --- | --- | --- | --- |
| Up to 200 Mbps Speed | $39.99 per month | No Cap | No contract |
| Up to 400 Mbps Speed | $64.99 per month | No Cap | No contract |
| Gigabit Connection | $89.99 per month | No Cap | No contract |
Verizon Fios, like most providers, only offers three internet plans. There's a good selection of upload and download speeds — unless you need speeds in between 400 and 1,000 Mbps. If so, you'll want to look into a cable provider like Xfinity.
Verizon Fios up to 200 Mbps plan is the best Verizon Fios deal to start with, especially if you've never had fiber internet. I realized the difference in speed when I switched to Verizon Fios from a cable internet provider. My plan speeds were the same but only Verizon Fios has consistent speed throughout the day.
Optimum Internet Fees
| Fees | Cost | Avoidable? | Type |
| --- | --- | --- | --- |
| Professional Installation | $99 | Yes | One-time |
| Router Fee | $15 | Yes | Monthly |
Installation
Verizon Fios' professional installation costs the same as most of its competitors: $99. There's no way around it if your home has never been wired for Verizon Fios. For me, it took about two hours for the tech to get everything up and running. During that time, the technician was going in and out of the house a lot to deal with the wiring outside. It did get a little awkward at times, but the wait was worth it: I have never had a problem with my connection since.
Self-installation is an option for a lot of people now as Verizon Fios network expands. You'll save $99 and get to set up your connection faster by picking up your equipment at a Verizon store. Verizon recommends using their step-by-step self-install guide on their website or My Verizon app to help move things smoothly.
Contracts and Early Termination Fees
Prior to 2020, Verizon charged up to $350 in early termination fees (ETFs). Now that Verizon has gotten rid of their contracts, you don't have to worry about getting stuck in a long-term commitment or paying to get out of one. A great incentive for new cord cutters is Verizon Fios' contract buyout offer. You can get out of your current internet contract by switching to Verizon and get up to $500 to pay your ETFs. Spectrum and a few other providers have a similar deal; I used it to start my cord cutting journey.
Equipment
This is the one area Verizon Fios loses points for their pricing. Verizon Fios monthly equipment fee is the highest I've seen at $15 a month. Granted, Verizon has the best router compared to Xfinity's, which has the second-highest monthly equipment fee. But unlike Xfinity, Verizon gives you the option to buy their router for $299.
Internet providers always recommend using their equipment since it works better with their services. If you're going to buy a router, you could save money by getting a third-party router instead of Verizon's. Then again, you may need to buy or rent a Fios router in the future if you decide to bundle with Fios TV. Paying Verizon's monthly equipment fee guarantees free upgrades and faster technical support. Plus, you won't have to worry about knowing if your router can handle the speeds your plan offers (routers have their speed limits, too).
Verizon's Fios router is a small, white, almost cylinder block; it looks like an Amazon Echo.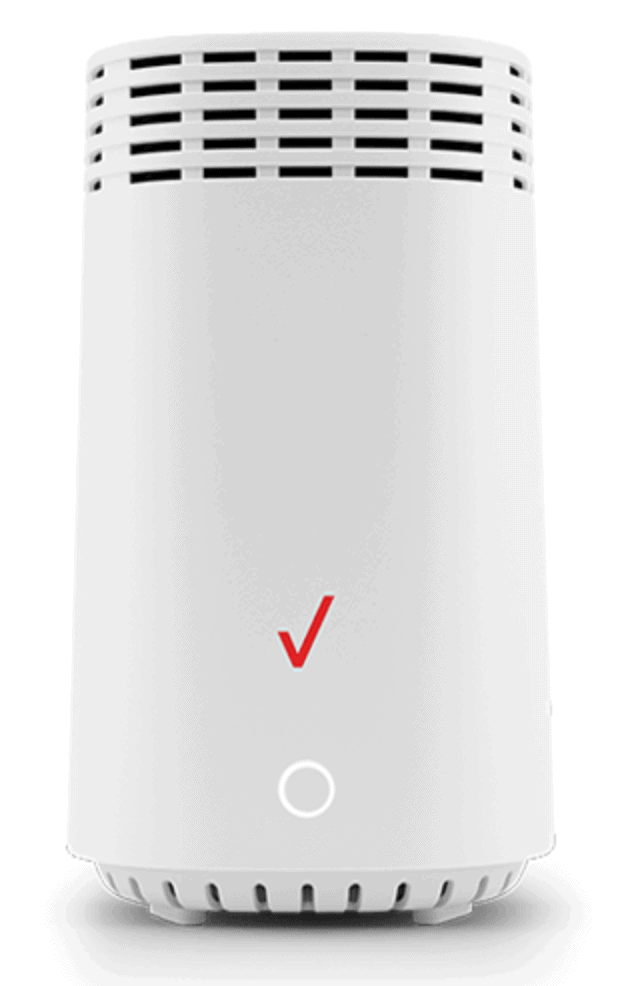 I recommend buying Verizon's router if you only have access to their DSL
it costs about $45 which will save you money within your first year of service.