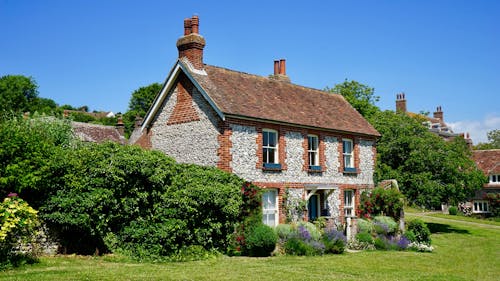 Homebuyer Tips for the Spring Housing Market
If you're planning on jumping into the real estate market, now is the time to start planning. Springtime is one of the busiest times of year for buying a house. According to Zillow, there are more new listings between April and June than at any other time of year.
And, if the 2022 spring real estate market is anything like it was in 2021, the competition will be hot. Interest rates are at an all-time low, which makes owning a home extremely enticing for people's long-term financial goals.
But that also means more people are on the hunt for their dream homes, amid migrations from expensive cities to affordable towns, those trying to get in before list prices continue to skyrocket, and those who are now working from home and are tired of being trapped in a tiny apartment. You used to find your neighbor's habit of serenading their cat every morning charming, but not so much now that you can't escape to the office.
Why is the spring real estate season competitive?
When deciding to take the leap into homeownership, it's important to understand real estate market trends. If you're looking for affordability, winter may be your best time to buy for a few reasons:
• Fewer people want to take on a big move in the ice and snow (though this probably isn't an issue in the Southwest).
• It's not a popular time to move for families with school-aged children, who only get a few weeks of winter vacation and wouldn't want to switch schools in the middle of the year.
• Homebuyers don't want to move during a busy holiday season.
Because of these factors, the real estate market naturally dips in the winter, which means the prices have to follow suit. This also means there are slim pickings since sellers want to wait for warmer weather and peak buying times.
This is why the spring real estate season is so competitive. If you're looking for prime locations and many options, the return of warmer weather is often the best time to buy a house.
Buying a home in the spring means you have to be ready and organized, especially in today's market. Here are some spring real estate tips for beating the competition and snagging your dream home.
1. Get pre-approved and have a down payment ready.
Don't enter the spring housing market without being pre-approved for a loan. You need to start saving for the prepaid costs now and make sure your credit score is in order. This isn't just a helpful spring real estate tip; it is essential no matter when you're buying a home.
You also don't even want to contact a real estate agent until you've been pre-approved for a loan. Obtaining a Verified Approval Letter shows all parties involved that you mean business, which will make them take you more seriously. It also helps you avoid the heartbreak of falling in love with a home and finding out your credit wasn't as good as you thought it was.
Finally, make sure you have enough saved for a down payment—ideally 20 percent of the home cost. If you're buying a home for the first time, you may be eligible for grants that will help you qualify for better mortgage rates or avoid private mortgage insurance. 
2. Choose your real estate agent wisely.
Using a real estate agent is essential—especially if you're new to the homebuying process. Selecting the right person for the job is critical. A real estate agent needs to know exactly what you're looking for so they can help you navigate the spring market for real estate and offer local market advice. The last thing you need is to be bamboozled with all the real estate jargon and end up with a money pit.
Don't hesitate to interview your potential real estate agent to ensure they're right for you. Buying a house is a huge investment, so having a trusted relationship with a REALTOR® is very important. 
3. Be professional while looking at houses.
When you're scheduling and going to house viewings, think of them as professional interviews. It's important to treat the homeowner and real estate agent with respect as well as the home itself. Here are some things to keep in mind:
• Dress the part. When meeting with your real estate agent and going to showings, rock the business casual look. Dress like you're going to a job interview—just make sure to wear sensible shoes since you'll most likely be trekking into backyards and climbing stairs.
• Know your stuff. The best way to look like you know what you're talking about is to, well, know what you're talking about. Scour the internet for homebuyer guides and real estate tips to learn the lingo and steps involved. You've probably already figured this out if you're reading this article. Hurrah! 
• Trust your gut. If a house isn't giving you the right feeling, don't be afraid to express that to your real estate agent. Try to note what is turning you off, so the agent can avoid similar houses in the future.
Just make sure you wait until you're off the property before telling your real estate agent what you don't like. Avoid offering criticism while you're in the home or near the homeowner, as that may hurt your chances of your offer being accepted.
4. Protect your investment.
When you do find the perfect house, make sure you're prepared. Invest in a quality home inspection, homeowner's insurance, and home warranty benefits from American Home Shield. 
What is a home warranty? Essentially, it helps cover systems and appliances outside the scope of your home insurance. Paying for a home warranty enables you to avoid the hassle of having to find a repair professional yourself and protects your budget from costly repairs or replacements of your hardworking appliances and home systems.
It's easy to become overwhelmed by the home buying process, but these spring real estate market tips will help you be prepared for the competition. Happy house hunting!