Unlock Review: Tap Your Home Equity Without Debt
Rising interest rates make home equity loans and lines of credit much less appealing. Rates on HELOCs have nearly doubled to 7-10% APR over the past year.
No one wants massive monthly interest payments. But many homeowners need to access home equity. After all, credit card debt just hit record highs.
If you want to convert home equity to cash without debt, Unlock may help. It provides a no-interest, no-payment home equity plan. You get cash now in exchange for equity when selling in ten years. While tempting, understand what you sacrifice before signing up.
What is Unlock?
Unlock offers financial products for homeowners who don't qualify for traditional home equity loans or HELOCs. Founded in 2020, it provides home equity agreements to tap equity without loans. This targets homeowners with lower credit or income who don't qualify for typical home equity products.
With today's near double-digit interest rates, this product has broader appeal. Unlock is gaining ground as traditional loans strain borrowers' cash flow.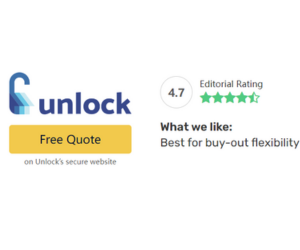 What Does Unlock Offer?
Currently, Unlock only provides one product – a home equity agreement. If you own your home, you may qualify to receive cash in exchange for future equity when selling in ten years.
Get Fast Cash Now, Delay Payments for 10 Years
To qualify, your home equity ratio must be at least 20% of home value. After a quick application, Unlock reviews your title and estimates home value. If approved, Unlock sends a quote in days. Accept it, and funds hit your account within days.
You owe nothing until you sell or in ten years. Most will sell or refinance before ten years. The typical homeowner stays 13 years per the National Association of Realtors. Consider this timeframe when evaluating Unlock.
Generally, use the cash as you wish. But if you have another lien, Unlock may require paying it off first.
Trade Future Home Equity for Cash Now
Unlock exchanges cash now for future home equity. If your home is worth $400K and you get $40K, that's 10% of current value. Typically, Unlock takes 2x equity in the future. So when selling, you'll owe 20% of the home's value then.
If you sell for $500K within 7 years, you'll owe Unlock $100K (20% of sale price). The faster home values rise, the better the deal with Unlock. Slower growth benefits you more. Each party takes on similar risks.
No Interest or Monthly Payments
Because Unlock offers equity agreements, there's no interest or monthly payments. You pay your share of equity when selling or in ten years – whichever comes first. Until then, the cash is yours tax-free. Unlock takes a second lien on your property to secure the agreement.
Not Nationwide Yet
Unlock doesn't operate nationwide yet. It currently operates in 15 states: Arizona, California, Colorado, Florida, Michigan, Minnesota, Nevada, New Jersey, North Carolina, Oregon, South Carolina, Tennessee, Utah, Virginia and Washington.
Investors Can Unlock Rental Property Equity
Investors often struggle unlocking equity from rentals. But Unlock works for rental and second homes too. However, rentals require more equity and get lower cash amounts. Rentals also face stricter underwriting standards.
What Fees Does Unlock Charge?
Unlock has two main fees to know. First, the exchange rate, which is the ratio of future to current equity. For most, it's 2x. So if you get 10% equity today, you repay 20% in the future.
Second, Unlock charges a 4.9% activation fee deducted from your funds. On a $40K advance, you'd pay $1960 upfront and receive $38,040.
How Does Unlock Compare?
Unlock competes with other HELOC alternatives. Those with more home equity and better credit can find similar terms and lower fees through Hometap. For terms beyond 10 years, consider Unison (renewable) or Point (30 years).
With any HELOC alternative, you sacrifice substantial future equity for cash now. Only you can decide if it's worth it. Expect an effective interest rate of 7-12% based on home price appreciation and term. Faster growth and shorter terms cost more.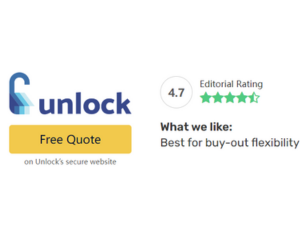 Is Unlock Right for You?
Unlock is an alternative for those with lower credit and incomes who have equity but can't afford monthly HELOC payments. Because it targets riskier borrowers, agreements are priced accordingly.
Many would take 10% equity today and repay 20% in a few years when selling. That's often a poor deal. While Unlock offers a decent product, shop around to ensure it's your best option. You may find a better HELOC alternative elsewhere.